Shawn Kresge Electric & AC, Inc. prides itself on giving back to the community! It is a great feeling to have such a close relationship with our community. In a town where you know half the people shopping at the food market while you are there, it would be hard not to have community running through our veins.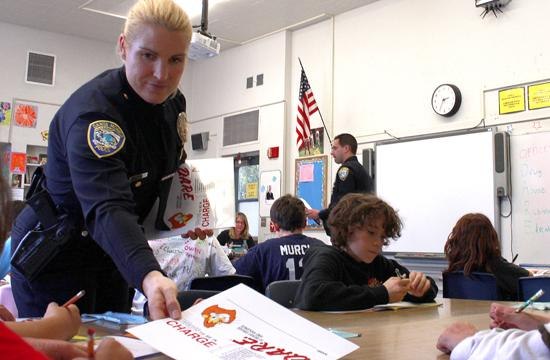 Shawn Kresge Electric loves to support the D.A.R.E Program in our local schools. D.A.R.E stands for Drug Abuse Resistance Education. This program was designed to prevent our children from the use of drugs, gangs and violent behavior by the interaction of police officers or sheriffs in a classroom environment. This interaction and education helps the children meet and understand officers in a friendly manner, rather than meeting when a child commits a crime or a domestic dispute happens. These highly trained officers teach our children about the dangers that exist today, and tactics to avoid or turn down these dangers. After ten, one-hour sessions, a graduation ceremony is performed which is a wonderful opportunity for families and schools to celebrate the children's achievements! After graduation, Kresge Electric throws a big pizza party as a congratulations for the kids.
Take me out to the ballgame! Kresge Electric is a great supporter of community ball fields as well! As America's favorite past time, how could you say no to lend a helping hand! We have donated our time, expertise and bucket truck services to help out the local fields. From repairing and maintaining field lighting, repairing electric in concession stands, to hanging scoreboards, we are a community leader in the game! Play ball!
Parades and more parades!
There is no better way to smile, laugh and celebrate in our town than a parade! Kresge Electric is an annual sponsor for the Jim Thorpe St. Patrick's Day Parade! The crowd, music and electricity make this parade one of the best around and we are happy to contribute to the town and its people! Don't forget about the annual Halloween Parade that features the famous Shriner cars, Girl Scout and Boy Scout Troops and local businesses! Kresge Electric is happy to be a band sponsor!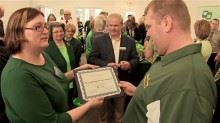 Shawn Kresge Electric is pleased to donate other services and monetary contributions to local VFW establishments, fire companies, the Leukemia Foundation…etc. throughout the business year. Without local support, this community would not be as tight knit as we are.
"Your are what you do, not what you say you'll do." – C.G. Jung